The Central Berkshire Coordinated Family and Community Engagement Grant is funded by the Massachusetts Department of Early Education and Care
You can reach me at 413-655-0146 X5109 or email @ wprovencher@cbrsd.org
Look for me on Facebook – Wendy Provencher (Look for the Brain Building Sign)
I make up bags with the activities for the week, you can pick them up at the Dalton Public Library on Monday's after 2:00. If you choose to only attend 1 or 2 of the programs during that week, it is fine. You will receive the supplies for all groups. You can find the instructions for the activities here and in your bags. I am encouraging you to do the activities at your convenience with your child/children.
If I know who is attending and the ages of your children, I can tailor the group a little bit better.
If your child has had enough on Zoom, I understand and my feelings will not be hurt if you feel like you need to leave the group.
Please remember to mute yourself if your child is crying or upset or is just babbling. It is really hard for everyone to hear me talking or reading with all of the background noise. If we are doing an open activity you do not have to be muted.
Tuesday STEAM 10:00 AM (virtual)
It's Halloween Week! So exciting!
Story Room on a Broom
SALINE SOLUTION SLIME RECIPE FOR MAKING HALLOWEEN SLIME IDEAS
STEP 1: Add 1/2 cup of Elmers Glue to your bowl
STEP 2: Mix with a 1/2 cup of water (you can try omitting this for a thicker floam).
STEP 3: Add food coloring as desired
STEP 4: Stir in 1/2 tsp baking soda
STEP 5: Stir in a cup and quarter of foam slime beads or as many as you desire!
STEP 6: Mix in 1 tbsp saline solution and stir until slime forms and pulls away from sides of bowl. This is exactly how much you will need with the Target Sensitive Eyes brand, but other brands may differ slightly!
If your slime still feels too sticky, you may need a few more drops of saline solution. As I mentioned above, start by squirting a few drops of the solution onto your hands and kneading your slime longer. You can always add but you can't take away. Saline solution is preferred over contact solution
Lava Lamp
I love this spooky science demonstration because there are several different scientific concepts to learn! The kids are absorbing tons of great principles without even realizing it
Next, why don't water and oil mix? The simple answer is that they are made of different chemical bonds. No matter how hard you stir, water and oil will never mix together. If you want more in-depth answers and examples of this check out this cool oil and water experiment or our classic Lava Lamp/Density experiment!
Last, what is the chemical reaction that happens when you drop Alka-Seltzer into the lava lamp? As the Alka-Seltzer dissolves a reaction between an acid and a base happens, causing carbon dioxide to bubble up through the oil layer. This is the fun chemical reaction you can see!
Clear Plastic or glass jar or bottle
Vegetable oil
food coloring
Warm water
Alka-Seltzer tablets (or generic equivalent)
Candy corn estimation
Can you guess how many candy corns are in this jar? (enclosed) – once you have guessed you can open and count them. Go ahead and eat if you would like.
Candy corn counting activity (enclosed)
Wednesday – Circle time with Miss Wendy 10:00-11:00
Circle time chant
Have students stand.
Sing the chant and follow the movements in the song. When it says "Let's count it out!" Point to each child clearly as you count.
Feel free to use other movements like "Let's stamp it out, let's shake it out, let's jump it out!" Whatever works for you and your classroom. When you do the movement count as you do it.
When you chant " There are ___ friends on their feet." Use the number that you counted.
How Many Friends Are Here Today? How many friends are here today? How many friends are here to play? Let's count it out! Let's clap it out! Let's dance it out! There are ____ friends on their feet! Now it's time to take your seat!
Calendar, weather, alphabet, days of the week
Days of the week song
Spider web counting – Can you make a spider web with the supplied items?
Yarn, paper plate, plastic spiders, string (all of these supplies are in your bag) Dice
Five Little Ghosts –
Five little ghosts flying through the door,
One flew away and then there were four.
Four little ghosts spooky as can be,
One flew away and then there were three.
Three little ghosts drinking Halloween brew,
One flew away and then there were two.
Two little ghosts having lots of fun,
One went home and then there was one.
One little ghost's a real superhero,
Went to help a friend and then were was zero!
Pumpkin Shapes Circle Time Game
If your pumpkin is a _________,please stand up If your pumpkin is a _________,please stand up If your pumpkin is a ________,hold it up and turn around If your pumpkin is a_________, please sit down.
Thursday Story Time with Miss Wendy 10:00-11:00
Click Clack Boo!
Spider playdough play
10 Spooky Spiders story
Friday Family Fun! 3:00-4:00
The Monster Boogie
Decorate your own monster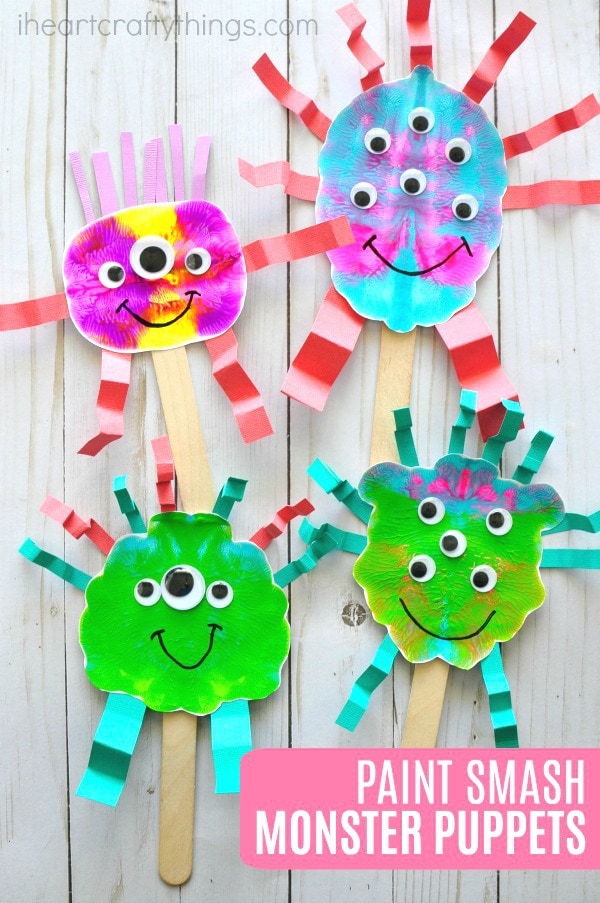 You will have to do a little prep before this group.
The supplies are in your bag for this activity
YOUR prep work is in bold!
1. Begin by folding your white cardstock in half to make a crease in the middle of the paper and then open back up the paper.
2. Add paint to the middle of your paper. Get as creative as you'd like with the amount of colors you use and the different designs you make with your paint. You can make swirls, straight lines, squiggly lines or dots. After adding your paint, fold your cardstock in half again and smash the paint down between the two halves of the paper to create your colorful, silly monster face. Use your fingers to rub the paper from the crease outward to spread the paint out across the paper. 3. When you are finished smashing and rubbing your paint, open your paper to see the colorful blob that was created. Let the paint sit to dry completely
______________________________________________________________________________________________
4. When your paint is dry cut out your monster face and attach it to your jumbo adhesive craft stick. If you can't find an adhesive craft stick simply glue your monster face onto a regular jumbo craft stick.
5. Cut out several different construction paper pieces to create limbs and hair for your monster puppet. Glue them onto your puppet. Give your monster puppet extra personality by bending and folding the construction paper pieces to add extra texture. You can add curls to the hair by wrapping the pieces around a pencil or add accordion folds to the arms and legs.
6. Finish your monster puppets craft by gluing on 1, 2, 5, 10 or however many googly eyes you'd like your monster to have. Then add a cute smile with your black marker.
Big Bad Bubble!
MONSTER PUPPET CRAFT FOR KIDS
Do your kids love monsters? Mine sure do. Not the scary kind though. Only silly, friendly, non-scary monsters are allowed at our house.
We have lots of favorite monster books that we love to read year round and since they've been my daughter's choice this week for reading time we decided to put together this simple monster puppet craft for kids.
It is seriously the simplest thing ever and your kids are going to love getting creative with circle stickers to create their own unique, silly non-scary monster to play with.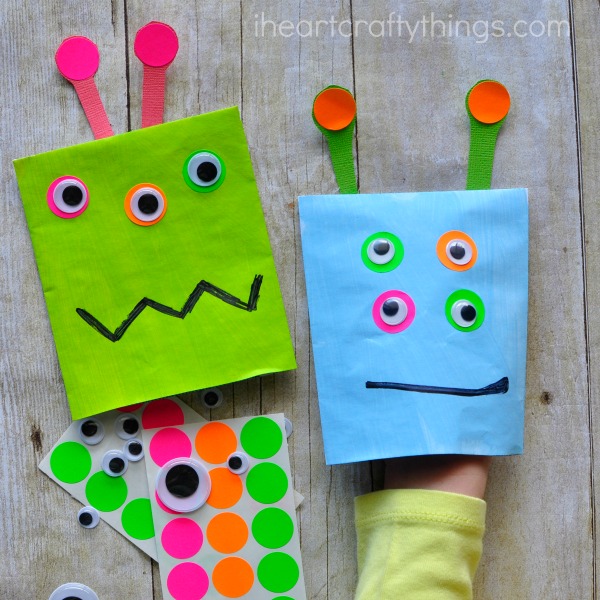 Happy Halloween! Have a great weekend!