The Central Berkshire Coordinated Family and Community Engagement Grant is funded by the Massachusetts Department of Early Education and Care
You can reach me at 413-655-0146 X5109 or email @ wprovencher@cbrsd.org
Look for me on Facebook – Wendy Provencher (Look for the Brain Building Sign)
I make up bags with the activities for the week, you can pick them up at the Dalton Public Library on Monday's after 2:00. If you choose to only attend 1 or 2 of the programs during that week, it is fine. You will receive the supplies for all groups. You can find the instructions for the activities here and in your bags. I am encouraging you to do the activities at your convenience with your child/children.
If I know who is attending and the ages of your children, I can tailor the group a little bit better.
If your child has had enough on Zoom, I understand and my feelings will not be hurt if you feel like you need to leave the group.
Please remember to mute yourself if your child is crying or upset or is just babbling. It is really hard for everyone to hear me talking or reading with all of the background noise. If we are doing an open activity you do not have to be muted.
STEAM Tuesday 10:00-11:00
Stained glass fall leaves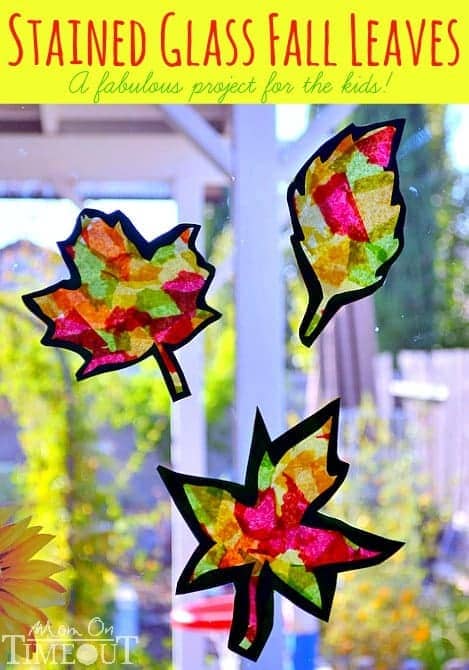 Glue
Tissue Paper (fall colors)
waxed paper
popsicle stick for spreading glue (or your favorite tool)
Fall Leaves Template #1 (or draw your own)
Fall Leaves Template #2
Craft knife
Paper (green, red, yellow, or orange)
Directions: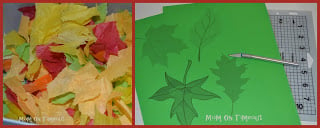 Have your children help you tear the tissue paper into small pieces – the smaller the better. This is loads of fun for the little ones and frees you to print out the template and cut out the leaves.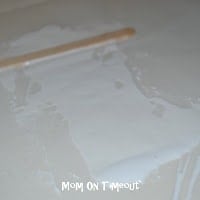 Tear off a piece of waxed paper that is double the width of your leaf template (so roughly 18″ long).
Apply glue to a small area of the waxed paper and then layer the tissue paper pieces on top, one at a time. It's okay if they overlap a little – the goal is to cover all the glue.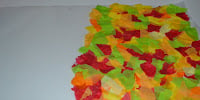 Continue working until half of the waxed paper is covered in tissue paper.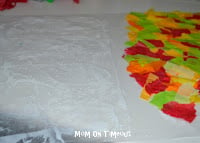 Now spread a thin layer of glue on the remaining half of the waxed paper on the opposite side.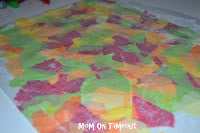 Fold the waxed paper over and lightly smooth the surface making sure that the glue is fully in contact with the tissue paper. Let dry.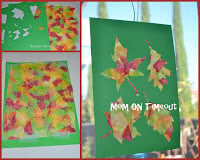 There are a couple of ways to enjoy the Stained Glass Fall Leaves. You can simply tape the dried stained glass behind the cut-out template and hang it on a window…
OR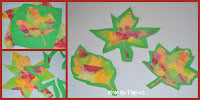 ..you can individually cut out the leaf shapes, gluing the border of the leaf to the top of the stained glass. Stick them to a window using tape, or hang them from a suction cup. Make sure the window gets some sunlight so you can enjoy the stained glass effect.
For this apple craft, Madelynn first painted an entire paper plate red. Then after it dried, she cut out and added the parts of the apple. And finally, she glued words on to label each part.
APPLE PICKING SENSORY BIN:
In this bin: red and green pom poms, small cardboard boxes, toilet paper tube, and cardstock trees with velcro dots, tweezers
FIVE LITTLE PUMPKINS STEM CHALLENGE
August 26, 2019 by littlebins 1 Comment
The Five Little Pumpkins book is a classic Halloween or pumpkin themed staple for the fall season. Our Five Little Pumpkins activity is perfect to pair with it too! Whether you have passed counting to 5, you can still try out this fun STEM activity and see if you can get 5 little pumpkins to sit on the gate or fence. My son still fondly remembers this awesome story. We love pairing our pumpkin books with STEM activities, check it out!
FIVE LITTLE PUMPKINS STEM CHALLENGE
5 LITTLE PUMPKINS ACTIVITY
You will see our supplies below and you may notice we used paper tubes, clothespins, popsicle sticks, and wood craft planks. You could also use pieces of cardboard, and Duplo.
What else do you have in your recycling bin, from yogurt cups to styrofoam trays? There are tons of great options, and I specifically save them for these open-ended STEM activities.
YOU WILL NEED:
5 little pumpkins
Various building materials (see below)
Glue, tape, pegs etc.
FIVE LITTLE PUMPKINS SET UP
Give your kids an invitation to design and build a gate to sit your 5 little pumpkins on. Put out various craft and recycling materials they can use for their STEM project.
Step back and let your kids test their design skills, invent possible scenarios, and figure out what needs to be changed for their project to be more effective.
FIVE LITTLE PUMPKINS CHALLENGE
The biggest challenge we had with this STEM challenge was the weight of the pumpkins. This was something my son picked up on after a couple failed attempts because the weight of the pumpkins and the lack of a really stable base was not working.
Through these failures, he was able to analyze the situation more critically and come up with an answer. I could have told him that the pumpkins were heavy, but I wanted him to figure it out. In the end, he came up with several solutions that supported the weight of the pumpkins (see below).
Below, you can see a few ways we successfully created a structure to support these five little pumpkins.
Roll it, Write it, Show it Spider web
Wednesday Circle Time with Miss Wendy 10:00-11:00
Calendar, weather, alphabet, days of the week
Five Little Pumpkins
little pumpkins sitting on a gate;
The first one said, "My it's getting late."
The second one said, "There are witches in the air."
The third one said, "But we don't care."
The fourth one said, "Let's run and run and run."
The fifth one said, "It's Halloween fun."
"Wooooooo" went the wind,
And out went the lights.
These five little pumpkins ran out of sight.
Fingerplay directions:
Hold up five fingers and bend them down one at a time as the verse progresses.
Line 7: Swoosh hand through the air.
Line 8: Clap hands on "out"
Line 9: Place hands behind back.
Five Little Pumpkins fingerplay
Rhyming Pumpkins
Pete the Cat and the 5 Little Pumpkins
Thursday Story Time with Miss Wendy
Story: There was an Old Lady Who Swallowed Some Leaves
There was an old lady who swallowed some leaves sequencing activity
Craft – Scarecrow craft
Fun Friday
Taco apple pie
decorative fall candle holder
I don't know if we are going to do this over zoom or if I will send you a video. I will keep you posted. If in person it will be at 4:00 on Friday.